« Back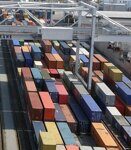 New railway logistics center in Tashkent
11.07.2018 08:52
A modern logistic center will be created on the basis of the railway sorting station "Chukursai" in Tashkent.
The project is being implemented by Uzbekiston Temir Yollari (Uzbekistan Railways), the "Akhborot 24" program reported. The cost of the project is US$20 million.
It is expected that the Center will be equipped with modern equipment from Germany, Russia and China. The capacity of the Center will be 1.5 million tonnes of goods a year.
Tashkent, Uzbekistan (UzDaily.com)